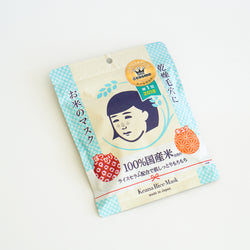 Ishizawa Lab
Keana Rice Face Mask
Healthier Skin and Smaller Pores With A 10 Day Sheet Mask. 
Keana Rice Face Mask comes in a pack of 10 sheets infused with a hydrating serum made completely from 100% domestically produced organic Japanese rice.  It's formulated with sake, rice bran oil, rice bran oil and rice ceramides. This nourishing blend of rice derived ingredients effectively treats dry, rough skin making it soft, plumped and hydrated to minimizing pores. Keana Rice Face Mask also works to condition and strengthen your skin's natural barrier.  It's suitable for all skin types. 
HOW TO USE
After cleansing the face, remove the mask from the bag with clean hands and carefully unfold the mask so as not to rip it. First apply the sheet  onto the entire face and leave it on for 5-10 minutes, then gently peel off. Massage with remaining beauty essence on the neck. 
GOOD TO KNOW 
Sulfate-Free, Allergen-Free, Silicone-Free, Cruelty-free
INGREDIENTS
Water, glycerin, PG, ethanol, (styrene / vinylpyrrolidone) copolymer, rice fermentation liquor, rice bran oil, hydrolyzed rice bran extract, rice bran sphingolipid, glucosylceramide, α-glucan, BG, xanthan gum, polysorbate 80, citric acid, citric acid Na, phenoxyethanol, methylparaben

SIZE
10 sheets in a bag
ABOUT THE BRAND
@cosme Best Cosmetics Award 2019 Best Pack # 1
@cosme Best Cosmetics Award 2019 @cosme STORE Best Hit Award Skin Care # 3
@cosme Best Cosmetics Award 2018 Best Sheet Mask # 1
@cosme Best Cosmetic Award 2017 Best Sheet Mask # 2 # 1
2016 New Best Best Cosmetic Best Sheet Mask # 1