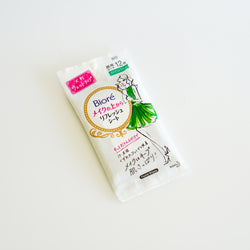 Biore
Facial Refresh Wipe (Citrus)
Refresh your look with one citrus wipe.  
Wipe off sweat and sebum while keeping your makeup intact with Biore Refresh Wipes.  With a full face of makeup, simply use this toner-filled sheet and pat across the skin to refresh and remove excess oil and sweat. Its built in "Grease Absorbing Fibers" will adhere to sweat, oil, and patchy foundation to remove what you don't want to keep you looking fresh and feeling good.  The big bonus: It can also be used as a face wash in the morning.
Biore Refresh Wipes are suitable for all skin types. Its convenient packaging makes it easy to bring with you and use while at work, out on a hike, or anytime during those hot and humid days to freshen up.  
HOW TO USE
Pull out a sheet and gently press onto the skin for a few seconds to lift off sweat and sebum. Do not rub. 
It can also be used as a cleansing in the morning by wiping the entire face. 
GOOD TO KNOW
No Alcohol, cruelty free
INGREDIENTS
Water, Propanediol, PEG-32, Na Hyaluronate, (Lauryl Methacrylate/Na Methacrylate) Crosspolymer, (Acrylates/Alkyl Acrylate (C10-30)) Crosspolymer, Isocetes-20, Tromethamine, Succinic Acid, Water Oxide K, EDTA-2Na, phenoxyethanol, methylparaben, fragrance
SIZE
12 sheet
18.5 x 1.6 x 9.7