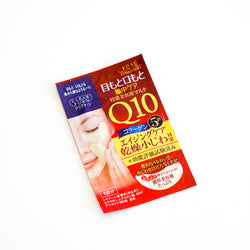 Kose
Clear Turn Q10 Eye Mask
Firm your eyes and mouth with 
C

oenzyme Q10

 sheet made of 100% cotton. 

Clear Turn Q10 Eye Mask is formulated with Coenzyme Q10, Hyaluronic Acid, Collagen, and Pearl Powder.  It's also saturate with oxygen to help boost the blood flow and protect against free radicals. 

This eye mask stimulate cell regeneration, moisturize the skin, increase the production of collagen and elastin. It reduces wrinkles and swelling, nourishes the skin.  Clear Turn Q10 Eye Mask can also be used around the mouth area.  It's suitable for all skin types, for men and women. 
HOW TO USE
After applying lotion, place the mask under the lower eyelid or mouth area and leave on for 10 minutes. Gently remove the mask.

GOOD TO KNOW
Low pH, No added fragrance, No mineral oils, No added color
INGREDIENTS
Coenzyme Q10 - is an antioxidant that increases metabolism, delays the process of skin aging, saturates with oxygen, improves skin color and tightens;
Pearl powder - has antioxidant properties, stimulates the cell regeneration, eliminates pigmentation;
Hyaluronic acid - moisturizes the skin, prevents moisture evaporation and fights fine wrinkles, speeds up the metabolism, improves the texture and complexion;
Collagen - strengthens the skin, smooths wrinkles, helps to get rid of under-eye bags.
Full Ingredients: 
Water · BG · glycerin · ethanol · triethylhexanoin · hydrogenated polydecene · glycine · tocopherol · palmitate retinol · hyaluronic acid Na · ubiquinone · hydrolyzed elastin · water soluble collagen · (acrylates / alkyl acrylate (C10-30)) Crosspolymer · Carbomer · Xanthan Gum · Corn Oil · Dicaprate PG · Hydroxyethyl Cellulose · Hydroxide Na · Hydrogenated Lecithin · Phenoxyethanol · Methyl Paraben
SIZE
1 pair