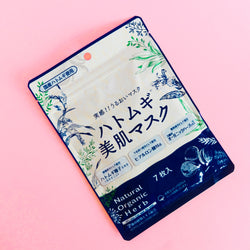 NOH
Pearl Barley Essence Face Mask
Hydrated Daily Sheet Mask.
A 7 day face sheet mask by Natural Organic Herb with Job's tear (Coiz seed) for deep hydration and firming. 
Pearl Barley Essence Face Mask is formulated with three plant-derived ingredients to soothe and tighten along with hyaluronic acid to moisturize the skin. The sheet masks are made of 100% natural cotton that gently wraps your skin. It's suitable for all skin types.
HOW TO USE
After cleansing the face, take out a sheet mask and unfold the mask.  Apply the mask to your face and leave it on for 10 minutes
INGREDIENTS
water, glycerin, DPG, ethanol, pearl seed extract, sage leaf extract, lavender flower extract, hawthorn fruit extract, kuzu extract, aloe vera leaf extract, chlorella extract, morus alba root extract, sodium hyaluronate, sodium alginate, citric acid, sodium citrate, BG, polysorbate 80, Phenoxyethanol, methylbaraben
SIZE
7 sheets