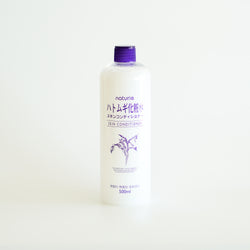 Imju
Naturie Hatomugi Skin Conditioner Lotion
The most beloved and affordable Japanese toner.
Naturie Hatomugi Skin Conditioner Lotion (toner) is highly effective in hydrating and conditioning of the skin.  It comes in a large tube that can last for months, making it one of the most affordable toner out there. Naturie Hatomugi Skin Conditioner Lotion is a lightweight and non-sticky moisturizing toner that soothes, balance and hydrates the skin.
Formulated with natural Job's tears (hatomugi) extract and Vitamin C to replenish the skin's moisture content and reduce redness/irritated skin.

 

Helps balance the pH of the skin and works to seal in the moisture when applied before moisturizer.  

Although perfect for the face, it is also excellent for use anywhere on the body. 

Suitable for all skin types, men and women and is recommended for oily, dry, and sensitive skin. 
HOW TO USE
After washing the skin, pour a small amount into the palm of your hands (or on a cotton pad) and gently pat over face and neck 

Can be used in the morning and night
GOOD TO KNOW 
hypoallergenic, appropriate for all skin types, non-irritating, sulfate free, silicone free, cruelty free, minimal ingredients
INGREDIENTS
Water, BG, glycyrrhizic acid 2K, coix extract, (styrene / acrylamide) copolymer, ethanol, citric acid, sodium citrate, EDTA-2Na, methylparaben
SIZE
 500ml (16.9oz) 
ABOUT THE BRAND
@cosme Best Cosmetics Award 2019 Best Lotion # 2
@cosme Best Cosmetics Award 2018 Best Lotion # 1
@cosme Best Cosmetics Award 2017 Best Lotion # 1