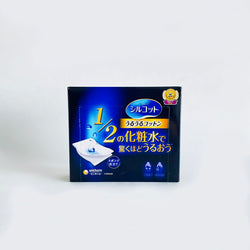 Unicharm
Silcot Sponge Touch Moisturizing Cotton
A unique cotton pad that makes your favorite toner go further. 
Not all cotton pads are created equal. When it comes to applying liquid skin care products like a toner and essence, most cotton pad absorbs more than it give back to your skin. So, what's the solution? Silcot Sponge Touch Moisturizing Cotton, made with high quality material, Uruuru Cotton.
It's so special because of three reasons:
Save 50% more of your favorite lotion - Unlike most cotton pads, Silcot Sponge Touch Moisturizing Cotton absorbs less of your toner which means less toner on the pad and more on your skin. 
Soft and no-fuzz - Unlike regular cotton pads, this one won't create that annoying fuzz when in use or leave any cotton residue on your skin.
Many ways to use it - Silcot Sponge Touch Moisturizing Cotton can be used as a regular cotton pad when applying beauty liquids to the skin, but it can do more!  It's curved design, dual sheets makes, and ability to give more than it absorbs makes for a great face sheet.  You can place it comfortable under the eyes or in areas of concern without having to worry about it fall off your face.  You can also use it when removing nail polish and when taking off your makeup. 
HOW TO USE
Apply toner directly to the cotton pad and apply to your face in a gentle patting method (t

he advice for patting is to apply lotion over and over).

 
Separate one pad into two sheets, pour your preferred toner and place them onto your skin for 5-10 minutes, or however long you want.  

SIZE
40 sheets (80 pieces)